Innovation Analytics and Benchmark
How well-prepared is my team for innovation? Is there a way to benchmark to others?
In short: yes. you can benchmark your innovation capabilities and quickly understand your readiness for innovation.
Innovation360 has benchmark data from +5,000 organizations in 105 countries and perform benchmark reports against any segment; country, trade, and organizational size. In essence, you will be provided with a myriad of different metrics that will tell you how you stand both internally and externally. To make it easier, we have also distilled it down to one tangible metric, called InnovationIQ.
How?
In providing you with Innovation analytics, we use our artificial-intelligence powered solution InnoSurvey®, that looks at 66 different innovation capabilities to assess where you stand verses leading innovators and what you need to do to achieve the best return on your desired outcome.
The digital assessment, which can be taken in more than 20 languages, takes 15 minutes to complete, and captures a 360-degree perspective into consideration. This means that external stakeholders, management and employees are conducting the survey.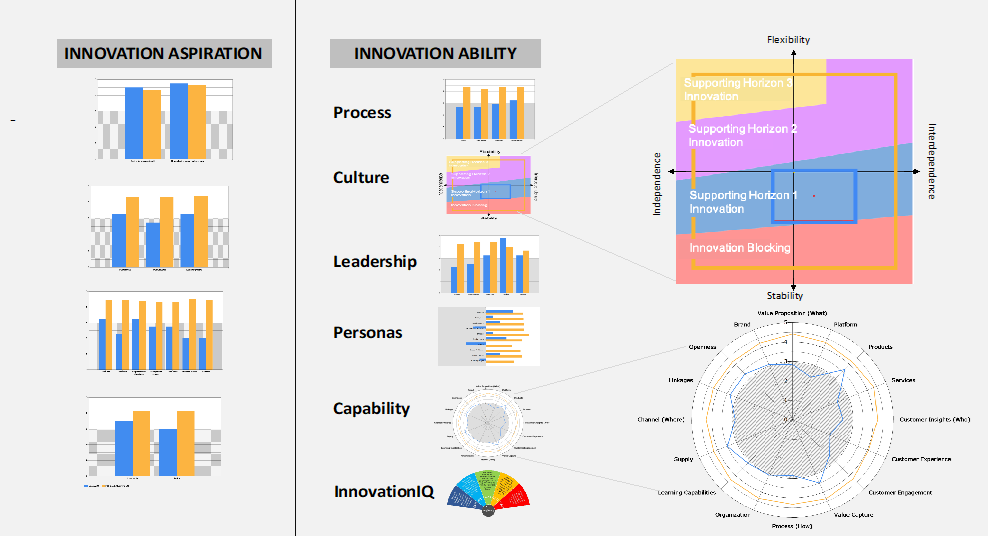 Related Blog Posts
There is a sweet spot in the market where your organization, and only your organization, can outperform…
The United Arab Emirates (UAE) Vision 2021 is one of the most ambitious innovation visions on the planet…
Result
You will receive an interactive innovation dashboard and InnovationIQ, which is an international rating system that measures how well prepared a business is to manage innovation across their organization. This certification signals that an organization is developing its capacity for innovative action and is actively working to align these efforts with key initiatives and organizational capabilities. It certifies to partners, investors, and key stakeholders that:
Innovation is managed intelligently across the three horizons of business development, answering the needs of today while preparing for the future
Leadership is adequately prepared to address the unique demands of an innovative culture, and need gaps are being filled
Overall strategy is aligned with leadership, core capabilities and culture