Strategic Direction & Scenario Planning
How do I know if I am on the right track with my innovation program?
We have developed, PESTLED360™ and SCENARIOS360™, a revolutionary strategy tool. PESTLED360™ is powered by artificial intelligence and holds global key drivers and scenario data in your industry while SCENARIOS360™ is one of the most comprehensive Scenario planning tools on the market (using PESTLED360™  as input). Together with your unique company DNA (as assessed with InnoSurvey®), it enables us to map out your potential scope and carves out a strategy, global key drivers, and possible scenarios to be on the lookout for going forward. This ensures not only a good direction based on the competitive landscape, but also a direction you can execute on claiming your best sweet spot.
How?
Together with your DNA (identified using InnoSurvey®), we use a digitalized process to collect insights with our interactive tools in workshops, interviews, and surveys, and then present the results.  Using our proprietary toolbox, we review PESTLED, develop industry and geography insights, map out key drivers, and develop key scenarios and link them to your DNA.  This forms the foundation for the identification of strategic themes for your organization.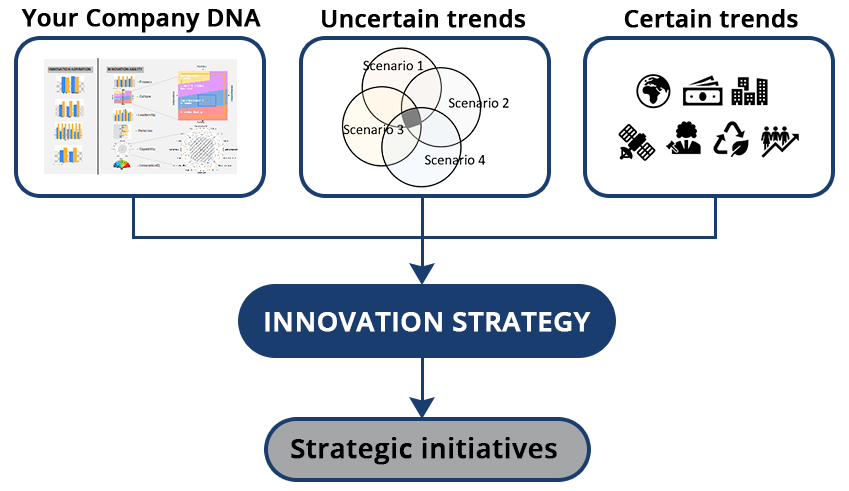 Result
A complete overhaul of your strategic direction, vetted against key drivers in a series of scenarios and against your organization´s unique ability to deliver on it.
Tangible recommendations on potential shifts based on scenarios
Identifies where to start, and where to focus your innovation program
Gets the right team 'on the bus'
Brings new ventures to market faster by ensuring the adequate capability is in place
Aligns your strategy with internally and externally focused innovation efforts
Measures and gets the return you expect on your innovation investment