Ideation Sprint & Platform
How do I gather the best and most innovative ideas to solve a challenge in 6 - 10 weeks?
Effective large-scale ideation combines a structured way of working with powerful technology to enable it in scale. Great innovation follows. Ideation's goal is to move from a single idea into commercialization, as quickly as possible while using minimal resources. With the innovation sprint you can crack any problem in six to ten weeks with the unique Innovation Sprint method and the world-leading ideation platform Ideation360®.
How?
Succeeding with ideation
It is a non-linear process and by clustering many ideas and restating refined campaigns, you will end up at places you could never foresee from the start.
It is essential you keep ideators engaged with feedback along the journey, regardless of what is happening with the idea!
It requires collaboration internally and with external parties.  While there is a time and place to be protective before you 'eat the pie', you need to 'bake the pie' and that is done best through collaboration.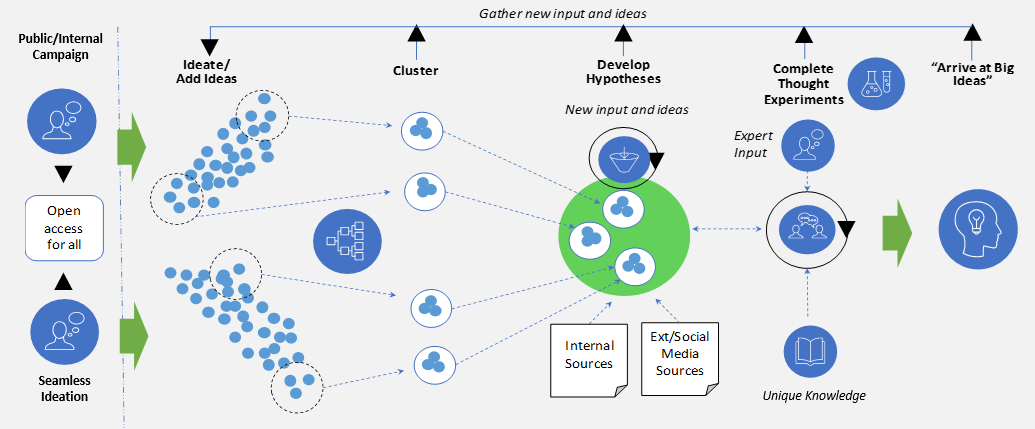 Result
Innovation 360's SaaS ideation management platform runs on AI-powered software that allows you to collect, cluster and link ideas to strategic initiatives via mobile, desktop, and tablet. I combination without leading Innovation Sprint methodology it is possible to crack basically any problem within six to ten weeks' time.
Leading to
Breakthrough vetted ideas to take to development and commercial success
Engagement with organization or external stakeholders
Demo