Podcasts
Innovation stories that inspire, inform and entertain
Play Bold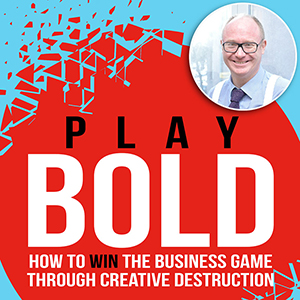 Let Magnus Penker and guests inspire you to tackle innovation and growth. We are getting back on track in the podcast series Play Bold, as we ramp up for the launch of Magnus Penkerís new book Play Bold: How to Win the Business Game through Creative Destruction.
The guests will reveal the true stories behind the events described in the book. The podcast episodes are full of humor, secrets that cannot be printed, and thought-provoking statements from world-leading thinkers, Hollywood producers, creative artists, CEOs, professors, and many others!
Welcome to Play Bold!
The Finnovate Show
Join Gerry Purcell and his guests as they discuss innovations that are transforming the financial services industry.
This is not your typical current affairs program that talks about what's happening in financial services. Seasoned executives share "out-of-the-box" thinking—ideas that you won't hear in boardrooms or zoom meetings. They offer perspectives about the marketplace, industry culture, and providing customer experience that exceeds expectations.
The Finnovate Show is the place to hear about actions that are quietly changing the way financial services work.