The Situation
Small and medium-sized enterprises (SME's) play an important role in economies across the world, creating jobs, driving growth and meeting critical needs. And yet, when it comes to innovation, SMEs often do not have the resources and tools to manage a process that consistently delivers results. They lack a structured process and a baseline for measurement and improvement. They need a common framework and language to describe and quantify innovation efforts, and to collaborate internally and externally.
While they don't have the same resources as large corporations, SMEs can potentially be quite innovative. These businesses are close to the action and markets, allowing them to easily adopt a need-seeker approach, a strategy highly correlated with radical innovation, the kind that shakes up markets and innovates from the inside out—from operations and processes to business models and products. They are less impacted by macro events, which can offer an advantage over regulation-bound corporations. Most importantly, they can build a strong, cohesive culture to drive positive action and bring innovation to everyone.
The creativity of a single division or even a single company alone is rarely enough to overcome the inertia of "the way it's always been." Companies—and successful innovations—do not exist in isolation, but in an interlinked network of businesses, partners, clients and customers, embedded in an intricately connected world.
Acknowledging the need for pursuing deeper impact over a wider area, the Growkomp Regional Development Project was designed to develop the innovation capacities of 22 manufacturing companies in the Småland region of Sweden over a two-year period. The EU funded-development project was launched in 2016 with 8.2 million Swedish crowns.
Claes Johansson, CEO, Nässjö Näringsliv AB, (lead business region): "We have amazing entrepreneurs in our region with untapped potential. I saw a need for new insights and tools in order to broaden their perspectives and Innovation360 delivered."
It brought together a coalition of regional business development organizations from Nässjö, Vaggeryd, Sävsjö and Jönköping. Businesses worked closely with Jönköping University, Science Park Jönköping, Codeq, and the Innovation 360 Group, which provided the business development resources and assessment tools.
Regional development projects such as Growkomp present an opportunity for business owners and entrepreneurs  to come together, pool resources and knowledge, and establish a structured process for innovating, both in the immediate day-to-day business, to improve efficiency and unlock value, and also in the second and third horizons, to ensure business continuity well into the future.
The Challenge
Sweden has a strong manufacturing sector, accounting for 21 percent of the country's GDP and 77% of Swedish exports. The industry is a job engine, particularly for businesses in the Småland region. This mostly rural area, home to IKEA and other furniture manufacturers, is the backbone of the economy and a hotbed of entrepreneurship. Despite a strong history of innovation in the region, manufacturing firms face the same challenges as manufacturers around the world:  increased competition, with digitization and environmental constraints applying pressure both internally and externally.
On the high end, digital manufacturing is creating a new standard of productivity and specialization, while competitors around the world can produce similar, albeit lower quality, goods much cheaper. Diminishing margins and sluggish overall growth challenges manufacturers to break out of the mold,  find new ways to connect with the next generation of customers, and create value for sustainable growth.
Practical challenges included skills and talent supply issues, and the need for concrete tools and methods for innovation and business development. There was a need to become more strategic and collaborative then in the past, to challenge existing business models, and to redraw strategic value propositions. To attract talent to compete in a digital world, manufacturers also needed to become more diverse and inclusive.
The Solution
To achieve these goals, a coalition of regional business development organizations and stakeholders worked closely with Innovation360 Group, to undertake a two-year development project aimed at helping Swedish manufacturing firms futureproof their business models and optimize productivity and operations, with a goal of increased growth and competitiveness.
The project ran for 30 months, with the first half focused on assessment and strategy, and the second on implementation and value creation.
It kicked off with an information session with all the management teams to introduce the program and set expectations on both sides, so that everyone knew what they had to bring to the table. This kind of clarity is essential to a successful program, particularly when it is a large-scale initiative.
We also worked on socializing the framework and language we would use in the assessment and implementation. This assessment served as a working map for the implementation phase.
We deployed the Innovation360 methodology and InnoSurvey® digital tool to assess the capabilities, culture and competencies of each company, generating a unique profile, detailed report, and InnovationIQ score. This analysis is backed by years of business science and our own extensive innovation database, with data collected from more than 5000 companies around the world. The InnoSurvey® performs an assessment of a company's innovation readiness across our comprehensive 360 framework. Using advanced tools for pattern recognition, correlation analysis, and data visualization, we are able to pinpoint strengths, vulnerabilities, and critical capability and skills gaps.
Together with a financial audit and analysis of market position with PESTLED360, a software-based analysis tool. This allows businesses to map external drivers to their strategic initiatives.
InnovationIQ scores and certificates were awarded to establish a baseline and recognize high performers. At the end, a reassessment was performed, yielding many interesting insights when correlated to performance outcomes.
Among the most exciting aspects of this project were the boot camps, where learnings were synthesized into action plans. The collaborative learning approach yielded deep insights and allowed for companies to share vital knowledge. Working with real business models, plans and projects on-the-ground, we were able to tailor short workshops and coaching sessions to address specific issues and problem-solve.
"Participating in Growkomp was highly valuable, especially the bootcamp where we gained inspiration and tools for describing our business model and got help to define concrete measures for achieving our goals. We have had some great discussions and follow ups throughout the process and the whole management team gained valuable information." –Martin Møller Business Development officer at Expedit.
We first conducted an immersive two-day workshop which brought businesses and their management teams together to work on their strategic initiatives, fine-tune their process for developing future horizon products or services, and optimize their operations.
With quick 360 assessments and evidence-based recommendations, participants took away actionable plans to test their assumptions. Working dynamically like this put innovation on a fast track and allowed participants to validate their ideas more quickly.
Several shorter workshops followed as participants actively worked on business development strategies, using Innovation360 tools and maps.
The project included:
A complete 360 digital analysis and assessment, including market position and financials
Business development boot camps and workshops
1:1 coaching for deeper analysis and personalized recommendations
Implementation and follow up analysis
Key Insight
Because we worked with companies in one sector, we were able to identify certain characteristics. The data showed an overall weakness in product selection, ideation, and commercialization, so we were able to focus on those areas. The highest performer in terms of increased order books also improved the most in these areas, validating the data.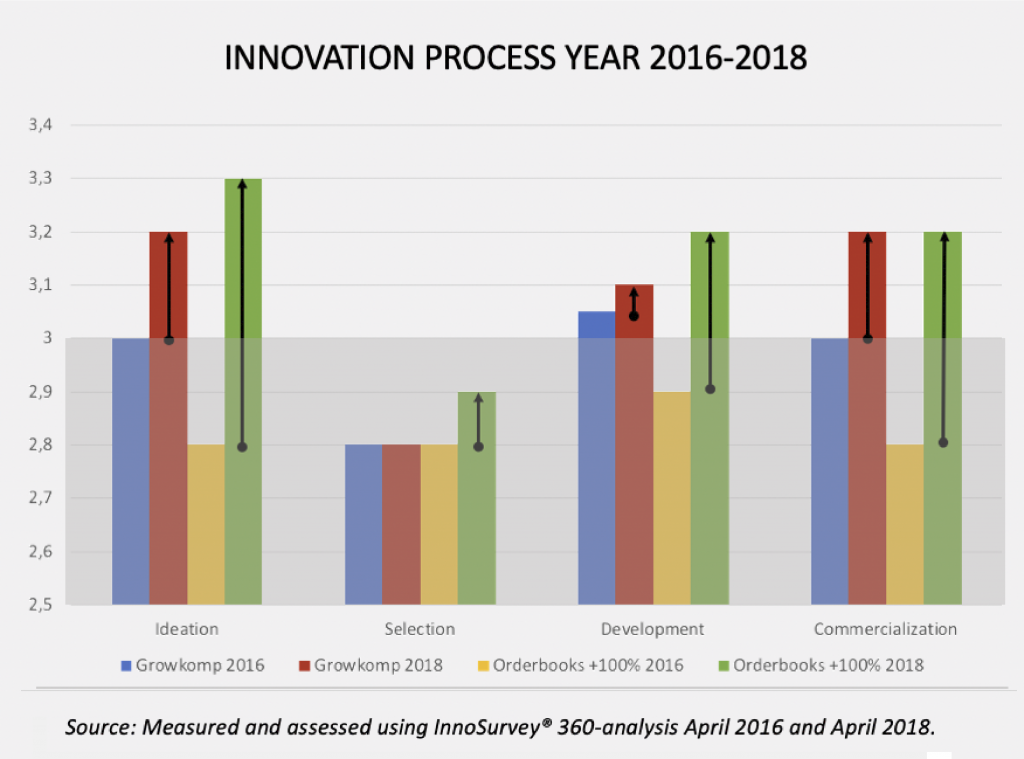 The Outcome
This ambitious development project ended on May of 2018, with a media conference to announce and celebrate the projects results, including:
Average growth of orderbook by 25% (10-100%)
Average Growth of 12%, higher than the national GDP of 5%
Revised business plans to continue the journey of sustainable growth
Increased diversity in both workforce and management
Significantly shortened product development cycles
As a result, several SMEs established their own innovation centers, integrated innovation into their processes and implemented a culture of innovation. In addition to these tangibles, Growkomp entrepreneurs spoke highly about the project and its impact on their businesses:
"Our CSR investment has already generated new business. Innovation area in Growkomp project was very interesting. We have gotten fantastic opportunities to be stronger and competent at innovation."  — Johan Ragnar, CEO of furniture designer Ragnars Inredningar.
Summary
Open innovation and large-scale development projects like Growkomp have huge potential for transforming entire regions or industries, and for making innovation something that is real and accessible to everyone. No one should think that innovation is a special talent possessed only by a few lucky individuals and wealthy corporations, or a benefit to be enjoyed only few. The most successful innovators engage their stakeholders and community and work within ecosystems.
They start moving away from an incremental market reader approach, deploying need seeking and technology-driven strategies. These styles can be taught and trained, and by drawing from real use cases and business models, learning is synthesized on the job. Critical leadership styles can be correlated to specific approaches, along with capability and competency gaps. After these blockers are identified and gaps filled, the company can respond with training, hiring, or organizational restructuring and reimaging roles and jobs. All of this is possible for small companies, too. Defining a value proposition is critical work for an SME that wants to engage with the customer and shift from a product mindset to a value mindset. Ideation, both internally and externally, can support exploration of new models, markets and mindsets.
The Continuum
Growkomp 2 was launched in January 2019 validating the success of model with an investment of more than 12 million crowns and encompassing 37 companies. One of the participating companies, JSC IT Partner, which is an ICT SME, was able to increase its Innovation IQ during the program from 61 at the start to 71. This places JSC on the EU's top 10 list, which is an admirable achievement, and a sign of dedication and progress.
JSC is enjoying 20% year-on-year profitable growth, and with its innovative efforts organized in a world-class manner, we expect it to maintain or even accelerate its growth.
See the video with Claes Johansson, the head of NNAB, one of the local chambers of commerce, talking about the program with the Petter Jacobs, Innovation Director and former CEO of JSC IT Partner, interviewed by Jacob Sunberg.
Internationalization
The successful Swedish innovation and business development GrowKomp program has not only helped 21 companies´ to improve their capability significantly but is also now a model for similar projects abroad including a new program launched, with our partner Orryx, called InnovationNI in Northern Ireland.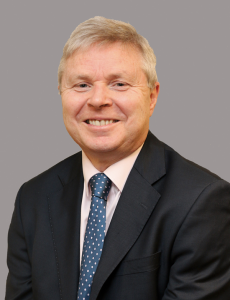 Launching the Programme, Noel Lavery, Permanent Secretary at the Department for the Economy, said: Innovation is vital if we are to continue to grow our local economy. We want Northern Ireland to be one of the most innovative regions in the UK, reflecting the ambition set out in the draft Programme for Government and the Department's Innovation Strategy 2014-2025. This new Innovation Accreditation Programme for Northern Ireland will help achieve that vision by supporting businesses to invest in innovation and improve their global competitiveness. I am confident it will be recognised as a differentiator, setting companies apart from their competitors. The new Accreditation Programme consists of a unique Northern Ireland Innovation Certification Scheme, as well as an Internationally Recognised Innovation Accreditation from Sweden-based company Innovation360. Read more here.
About Innovation360
The Innovation360 Group helps organizations establish an adaptable innovation process and foster a culture of innovation. Their data-driven action plans are based on analytics from thousands of innovative projects over many years. In today's intricately connected global marketplace, characterized by extreme competition and the daily appearance of new competitors, disruption is the status quo. Data trends indicate that around 40% of the companies thriving today will be gone within the next 10 years. In this new world, innovation is a basic survival skill.
Innovation360 Group is recognized as a leading international innovation management firm, with a growing presence in 30 countries and operations in nearly all major language groups. From our executive offices in New York and Stockholm, we oversee worldwide initiatives through a network of accredited practitioners trained in the Innovation360 Group methodology. We have aggregated the world's largest database of concepts in practical innovation and developed Sherlock, the first AI program devoted to deep mind pattern recognition within innovation data. Innovation360 Group's methodology includes research in innovation, evidence-based analysis, and recommendations on concrete execution plans for increased innovation capability, profit, and growth. An overview of this proprietary process is published in Innovation360 Group's five-volume series, The Complete Guide to Business Innovation.
Innovation360 Group specializes in leading enterprises and governmental bodies on original approaches to ideation, the codification of creativity, and market strategies linked to developments along three horizons of breakthrough technology. Leaders can learn how to recognize advances in productivity and profitability from the intelligent management of innovation portfolios. Innovation360 Group can facilitate the design and execution of interactive training workshops (innovation circles) or help transform an organization through proven change management action plans, at any scale.
If you'd like to learn more about the Innovation360 methodology or software applications, please visit the Home of Innovation. We'd love to hear more about your innovation story and how we can help!
Posted on