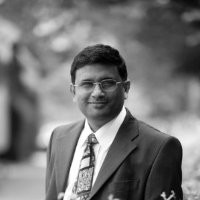 Based in Chennai, India
Background
Krishnan have over 25 years of varied industry experience spanning steel, automotive, FMCG and business consulting. His functional expertise includes operations excellence, supply chain, strategy development and execution as well as product development. These skills have been honed during a career spent at organizations such as Ford, Castrol/BP, Ashok Leyland and Jindal. During his consulting career at Valcon and ECS Limited (now PwC), Krishnan have worked with both MNC's, such as FLSmidth, Novozymes, Odense Steel shipyard, Castrol, as well as Indian companies such as TAFE, Kansai Nerolac paints, TVS group, Ramco Industries, HNGI, Murugappa Group, Maini group etc.
As the CEO and founder partner of Valcon in India, Krishnan have led the globalization effort of Valcon. Over 8 years, he had helped Valcon establish itself as a substantial consulting organization in India. Krishnan had managed to attract among the best talent from the industry and grow the organization to 30 people at its peak, spread across 4 offices and covering 2 significant service lines of Operations Improvement and Strategy & Markets.
During a consulting career spanning 13 years, Krishnan have led and delivered a number of transformation projects in the areas of business excellence, operations transformation, sales excellence and NPD.
As a highly skilled operations professional, Krishnan creates value for his clients by helping the senior management team improve performance of the organization through
Managing business transformation
Managing Innovation
Establishing a robust break through thinking environment and process
Aligning the organization to customer centricity, while maintaining efficiency
Areas of expertise
Innovation management
Operational performance improvement (manufacturing & service domains) using methods such as Lean, TPM, Six Sigma
Supply chain and procurement transformations / improvements
Enterprise cost reduction
Sales and distribution process excellence
Business strategy development & deployment
Performance management system
Quality management
Leadership coaching
Industry expertise
Automotive & auto component industry
Consumer & industrial products
FMCG
EPC
Quality management across discrete & continuous process industry
Education
BE (1985 – 89) PSG College of Technology
MS (1990 – 93) Indian Institute of Science, Bangalore
Contact
LinkedIn Profile: https://www.linkedin.com/in/krishnan-naganathan-14b4782/
Posted on